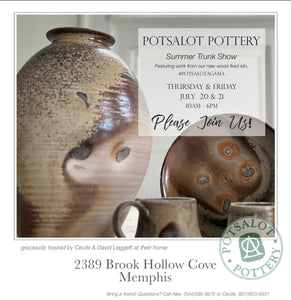 Potsalot Summer Trunk Show - Memphis Thursday, July 20 & Friday, July 21 10-6Saturday, July 22, by appointment
---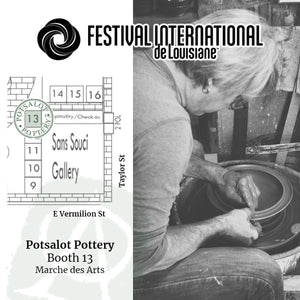 Celebrate 36 years of Festival International de Louisiane, April 27 - May 01, 2022. Marché des ArtsHere you'll find fine art works such as paintings, pottery, mixed media sculptures, artisan jewelry and other handcrafted items. All items for sale in this area are personally handcrafted by the artist exhibiting. ( https://www.festivalinternational.org/ ) Potsalot Pottery will be at booth 13, near Sans Souci Gallery, on the corner of E Vermillion St and Taylor St Feel free to email us with any questions!
---

Potsalot will be returning to the Peter Anderson Arts & Crafts Festival in Downtown Ocean Springs, November 6 & 7. Come say hello!  We'll be at booth 602* From the festival website: THE FESTIVAL WILL TAKE PLACE  NOVEMBER  6 & 7, 2021 9 A.M. – 5 P.M. DOWNTOWN OCEAN SPRINGS, MISSISSIPPI. Festival Info Festival Guide
---
Alex will be in Memphis for the Pink Palace Crafts Fair - September 24, 25, & 26 Taken from the Pink Palace Crafts Fair Website: Good times. Awesome arts and crafts. Audubon Park in East Memphis We're happy to be back for our 49th Annual Pink Palace Crafts Fair benefitting MoSH, the Museum of Science & History. With nearly 150 artists from around the country joining us this year, the 2021 Pink Palace Crafts Fair may be our best ever. You'll find a variety of eclectic pottery, jewelry, paintings, woodwork, leatherwork, sculpture, woven goods and so much more. Marvel at demonstrations...
---

Alex will be heading back to Memphis for Art in the Loop, April 16-18. As posted on Art in the Loop Website: Art in The Loop Features Talented Artists working in Metal, Glass, Wood, Clay & Fiber; plus, Jewelry, Paintings, Photography & More! You'll also enjoy fare by the town's top food trucks, and lots of fresh air! Free Admission! There is off street parking available at certain sites on some days of the festival.Parking Lot Access – These lots are ONLY available on certain dates (see list below); they are NOT available for parking every day of the festival. If you park in any of these lots on any...